Your journey and your wisdom are within you…
"Putting my thoughts & feelings into a drawing, instead of verbally speaking them, steers me to think of things in a different way, from different angles. I've found the birth art process to be more revealing, than just being asked to voice my thoughts. I value how when you are finished with a session, you have a drawing that you can hang up or keep in your notebook, that you can refer to for inspiration or deeper understanding." (Mother of 2, PA)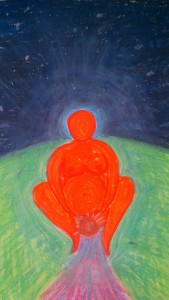 A Birth Art session connects you to your inner wisdom, expands your understanding of your birth experience and brings the deeper meaning of birth into today so you can live your life, clearly and confidently.
The birth art process is an simple tool for both expectant and current parents. Birth art helps mothers and fathers connect to their inner source of knowledge and wisdom. For those who had a traumatic birth experience, birth art can help to make sense of the intense mix of feelings and to heal hurts that don't go away by talking.
Birth art works with our natural biology to get our brains into the same open and connected state that all those powerful birth hormones do for women in labor. Receptive, we can draw strength and power in the present from connecting to our inner most self around this experience in the past. We find our own knowledge to use for healing, growing and living our lives today.
Through birth art, the solid feeling of understanding becomes the clear ground on which we can walk, to live and to heal. With access to our deepest wisdom and knowing, we become clear and conscious of our feelings, needs and experience. We know ourselves better, finding relief in truly being seen and feeling integration of all the pieces of ourselves.
Whole. 
Learn More about Birth Art Services: